By continuing you agree to eChinacities's Privacy Policy .
Sign up with Google
Sign up with Facebook
1
You must be a registered user to vote!
You must be a registered user to vote!
0
Q:
anyone getting the vaccine?
I did my 1st dose of the Vero on Saturday,My wife booked me in to get it done,filled out some paper work,paid 100 yuan.Nurse was very good as I hate injections.No side effects.go for number 2 in about 3 weeks.
2
You must be a registered user to vote!
You must be a registered user to vote!
0
if interested check out my video on youtube
Answers (10)
Comments (5)
2
You must be a registered user to vote!
You must be a registered user to vote!
0
if interested check out my video on youtube
2
You must be a registered user to vote!
You must be a registered user to vote!
0
The rollout is slow here in NZ, I think they're still jabbing the old people, those with health conditions etc.
I think they're saying everyone who wants one will have it by the end of the year.
I won't do it just for the sake of it.
Once, I'll start to move around the world again, I guess I'll have to do it.
I've done both (first one in April & the second one in May). There were no side effects for mine.
1
You must be a registered user to vote!
You must be a registered user to vote!
0
If you and yours aren't all vaccinated yet, you better do so ASAP.
It turns out that, according to this highly credible source below, some of us here - not looking at anyone in particular but y'all know who you are
- might be toxic superspreaders.
http://www.mirror.co.uk/news/politics/ministers-fear-coronavirus-could-spread-24609803
Ministers 'fear coronavirus could be spread by farting in a confined space'
"One minister, who wasn't named, told the Telegraph that they had read "credible-looking stuff on it" from other countries, and there had been evidence of a "genomical-linked tracing connection between two individuals from a [lavatory] cubicle in Australia".
I've always thought Oz is a dangerous place ...
6 days 13 hours ago
Report Abuse
There's a lot of hot air and people who talk out of their arse, no wonder the covid is spreading so fast...
6 days 4 hours ago
Report Abuse
She's 'exhaling' through the arse .... sitting in the pool ...
Oz is back on the lock-downs ..
https://www.rt.com/news/530170-australia-lockdown-protesters-strike-force/
RT is reporting every day something new about Oz and Cofid ..
5 days 18 hours ago
Report Abuse
I just want to say .." you lucky are you 'cause the vaccine is finally in yer body .."
Move Over COVID: A Drug Resistant Super Bug Fungus Is Now Being Reported In Texas And Washington D.C.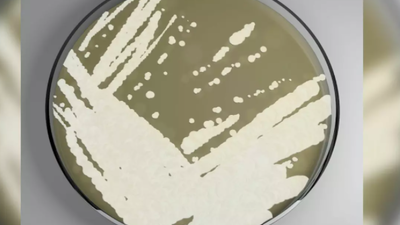 Happy 2021!
MON JUL 26, AT 2:00 AM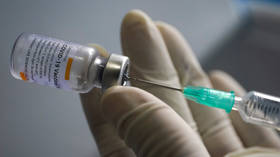 Sinovac Covid-19 vaccine antibodies begin to fade 6 months after 2nd dose – study
The antibody protection generated in recipients of the Sinovac Biotech Covid-19 vaccine begins to fall 6 months after the second dose has been administered, according to a new study from China-based researchers.
Jul 26, 2021 17:15
A research paper published on Sunday found that only 16.9% of people who had received two doses of the Chinese vaccine two weeks apart, and 35.2% of those who had both jabs four weeks apart, still had antibodies above the neutralizing threshold six months after that second vaccine.
While the paper has not yet been peer-reviewed, researchers at the disease control authority in China's Jiangsu province examined blood samples of healthy adults aged between 18 and 59 to see the lasting impact of having two doses of the Sinovac jab.
As well as exploring the effect of two doses, scientists investigated the benefits of a third booster shot, finding it had a strong positive impact on increasing the level of antibodies within recipients if given six months after the second jab. When people had that booster jab, researchers saw a three- to five-fold increase in their level of neutralizing antibodies, indicating the additional shot could help to maintain protection against the virus.
0
You must be a registered user to vote!
You must be a registered user to vote!
0
https://www.zerohedge.com/covid-19/chinese-authorities-blame-delta-varia...
Delta Variant Causes One Of China's Worst Outbreaks Since Wuhan
FRIDAY, JUL 30, 2021 - 10:00 PM
The delta variant has finally taken hold in China.
China, the original home of the coronavirus which first emerged in Wuhan in late 2019, has reported its biggest outbreak of the delta variant yet after an outbreak centered around the city of Nanjing has spread across the country. As of Friday, Chinese officials have counted 206 new cases since July 20, with most of them occurring around Nanjing, although they have spread to 13 cities in at least 5 difference provinces.
State media reported that a couple of the workers tested positive after failing to follow rigorous hygiene guidelines. So far, 7 people infected in the latest outbreak are in critical condition, not surprising considering that delta is believed to be more virulent and infectious, causing more severe infections in younger patients.
It's the first outbreak in China since last month's outbreak in Dongguan. Officials responded to that outbreak in the usual way - by locking down part of the city and ordering mandatory testing.
Beijing has a set strategy for handling COVID cases in keeping with the "zero tolerance" approach, something China's public health authorities share with Australia, which is struggling with the economic fallout from its latest round of lockdowns. It typically involves new lockdown measures (or at least some kind of temporary restrictions on movement) while millions in the area are tested. Officials reportedly plan to test all of the 9MM+ people in Nanjing.
Nanjing is situated in China's Jiangsu province, where thousands are currently locked down. Sichuan and Liaoning provinces have also reported cases.
The latest outbreak is also raising more questions about the efficacy of China's Sinovac vaccine, which is facing criticism for its low efficacy. Several Asian countries have opted to ditch the Sinovac jab despite its favorable price.
And now that delta has finally taken hold in China, the variant will put these vaccines to the test, just like it did in the UK, Continental Europe, India and - of course, - the US.
Vax adverse reactions, side effects - patients' testimonies ...
Know the answer ?